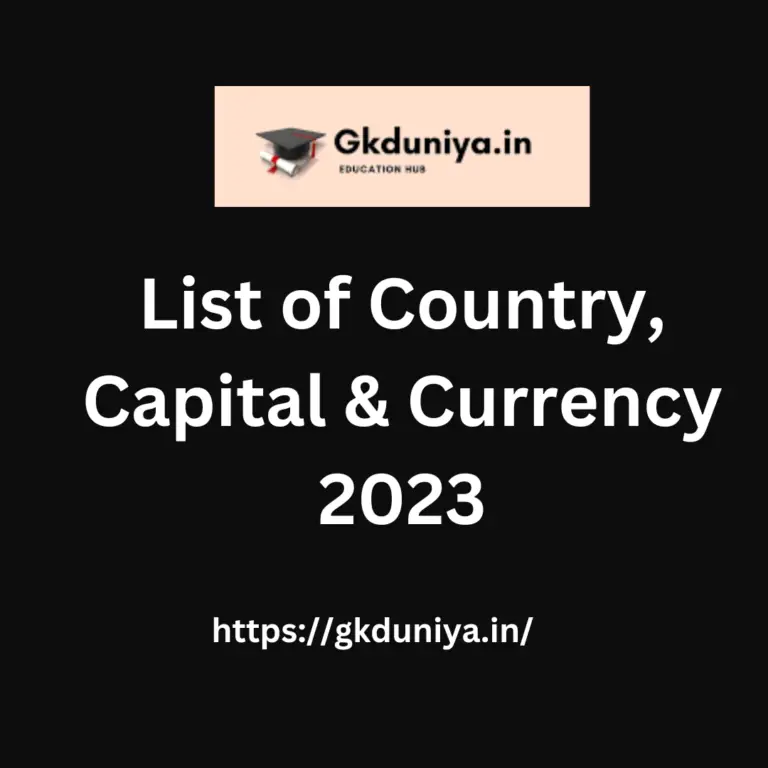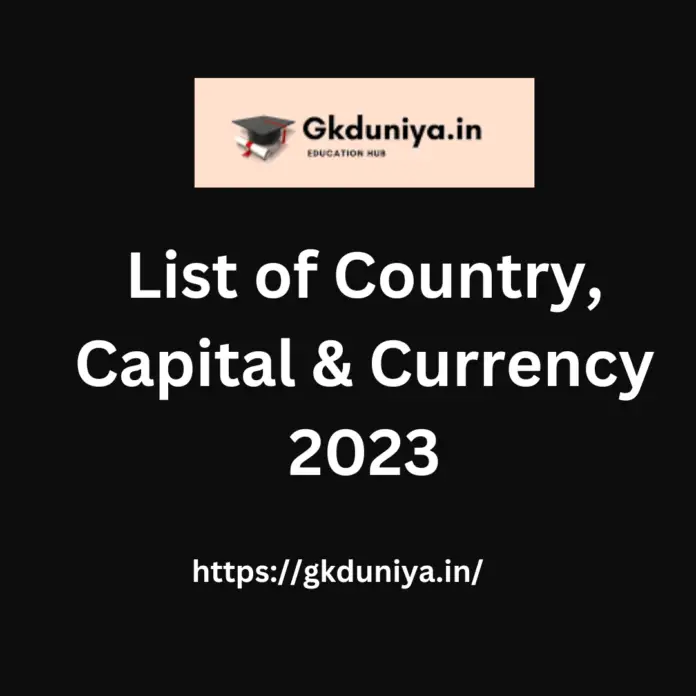 List of

Capital, 

Country & Currency (www.gkduniya.in)
Nation, capital and cash is one of the most significant themes regarding Static GK for the different Government tests directed in the nation.
The General Awareness segment is a piece of practically all significant Government tests and scoring marks in this part is the simplest since no estimations and arrangements are required. In any case, this is conceivable just if an applicant is totally arranged.
In this article, we bring to you the rundown of nations alongside their capital and the money. Applicants must gain proficiency with this to their tips as it might end up being advantageous for them. Likewise a couple of Country, Capital and Currency – Sample Questions have been given further beneath.
Nations – Their Capital and Currency
The table given underneath gives the rundown of nations alongside their capital, cash and the mainland to which it has a place:
Country, Capital & Currency

S.No. 

Currency

Capital

Country Name

Continent

1.

Afghani

Kabul

Afghanistan

Asia

2

Lek

Tirane

Albania

Europe

3

Dinar

Algiers

Algeria

Africa

4

Euro

Andorra la Vella

Andorra

Europe

5

New Kwanza

Luanda

Angola

Africa

6

East Caribbean dollar

Saint John's

Antigua and Barbuda

North America

7

Peso

Buenos Aires

Argentina

South America

8

Dram

Yerevan

Armenia

Asia

9

Australian dollar

Canberra

Australia

Oceania

10

Euro (formerly schilling)

Vienna

Austria

Europe

11

Manat

Baku

Azerbaijan

Asia

12

Bahamian dollar

Nassau

The Bahamas

North America

13

Bahrain dinar

Manama

Bahrain

Asia

14

Taka

Dhaka

Bangladesh

Asia

15

Barbados dollar

Bridgetown

Barbados

North America

16

Belorussian ruble

Minsk

Belarus

Europe

17

Euro (formerly Belgian franc)

Brussels

Belgium

Europe

18

Belize dollar

Belmopan

Belize

North America

19

CFA Franc

Porto-Novo

Benin

Africa

20

Ngultrum

Thimphu

Bhutan

Asia

21

Boliviano

La Paz (administrative); Sucre (judicial)

Bolivia

South America

22

Convertible Mark

Sarajevo

Bosnia and Herzegovina

Europe

23

Pula

Gaborone

Botswana

Africa

24

Real

Brasilia

Brazil

South America

25

Brunei dollar

Bandar Seri Begawan

Brunei

Asia

26

Lev

Sofia

Bulgaria

Europe

27

CFA Franc

Ouagadougou

Burkina Faso

Africa

28

Burundi franc

Gitega

Burundi

Africa

29

Riel

Phnom Penh

Cambodia

Asia

30

CFA Franc

Yaounde

Cameroon

Africa

31

Canadian dollar

Ottawa

Canada

North America

32

Cape Verdean escudo

Praia

Cape Verde

Africa

33

CFA Franc

Bangui

Central African Republic

Africa

34

CFA Franc

N'Djamena

Chad

Africa

35

Chilean Peso

Santiago

Chile

South America

36

Chinese Yuan

Beijing

China

Asia

37

Colombian Peso

Bogota

Colombia

South America

38

Franc

Moroni

Comoros

Africa

39

CFA Franc

Brazzaville

Republic of the Congo

Africa

40

United States dollar

Harare

Zimbabwe

Africa

41

Colón

San Jose

Costa Rica

North America

42

CFA Franc

Yamoussoukro (official); Abidjan (de facto)

Cote d'Ivoire

Africa

43

Croatian

Zagreb

Croatia

Europe

44

Cuban Peso

Havana

Cuba

North America

45

Euro

Nicosia

Cyprus

Europe

46

Koruna

Prague

Czech Republic

Europe

47

Danish Krone

Copenhagen

Denmark

Europe

48

Djiboutian franc

Djibouti

Djibouti

Africa

49

East Caribbean dollar

Roseau

Dominica

North America

50

Dominican Peso

Santo Domingo

Dominican Republic

North America

Country, Capital & Currency II
| | | | | |
| --- | --- | --- | --- | --- |
| S.No.  | Currency | Capital | Country Name | Continent |
| | | | | |
| --- | --- | --- | --- | --- |
| 51 | U.S. dollar | Dili | East Timor (Timor-Leste) | Asia |
| 52 | U.S. dollar | Quito | Ecuador | South America |
| 53 | Egyptian pound | Cairo | Egypt | Africa/ Asia |
| 54 | Colón; U.S. dollar | San Salvador | El Salvador | North America |
| 55 | CFA Franc | Malabo | Equatorial Guinea | Africa |
| 56 | Nakfa | Asmara | Eritrea | Africa |
| 57 | Estonia Kroon; Euro | Tallinn | Estonia | Europe |
| 58 | Birr | Addis Ababa | Ethiopia | Africa |
| 59 | Fiji dollar | Suva | Fiji | Oceania |
| 60 | Euro (formerly markka) | Helsinki | Finland | Europe |
| 61 | Euro (formerly French franc) | Paris | France | Europe |
| 62 | CFA Franc | Libreville | Gabon | Africa |
| 63 | Dalasi | Banjul | The Gambia | Africa |
| 64 | Lari | Tbilisi | Georgia | Asia |
| 65 | Euro (formerly Deutsche mark) | Berlin | Germany | Europe |
| 66 | Cedi | Accra | Ghana | Africa |
| 67 | Euro (formerly drachma) | Athens | Greece | Europe |
| 68 | East Caribbean dollar | Saint George's | Grenada | North America |
| 69 | Quetzal | Guatemala City | Guatemala | North America |
| 70 | Guinean franc | Conakry | Guinea | Oceania |
| 71 | CFA Franc | Bissau | Guinea-Bissau | Africa |
| 72 | Guyanese dollar | Georgetown | Guyana | South America |
| 73 | Gourde | Port-au-Prince | Haiti | North America |
| 74 | Lempira | Tegucigalpa | Honduras | North America |
| 75 | Forint | Budapest | Hungary | Europe |
| 76 | Icelandic króna | Reykjavik | Iceland | Europe |
| 77 | Indian Rupee | New Delhi | India | Asia |
| 78 | Rupiah | Jakarta | Indonesia | Asia |
| 79 | Rial | Tehran | Iran | Asia |
| 80 | Iraqi Dinar | Baghdad | Iraq | Asia |
| 81 | Euro (formerly Irish pound [punt]) | Dublin | Ireland | Europe |
| 82 | Shekel | Jerusalem* | Israel | Asia |
| 83 | Euro (formerly lira) | Rome | Italy | Europe |
| 84 | Jamaican dollar | Kingston | Jamaica | North America |
| 85 | Yen | Tokyo | Japan | Asia |
| 86 | Jordanian dinar | Amman | Jordan | Asia |
| 87 | Tenge | Nur Sultan | Kazakhstan | Asia/ Europe |
| 88 | Kenya shilling | Nairobi | Kenya | Africa |
| 89 | Kiribati dollar | Tarawa Atoll | Kiribati | Oceania |
| 90 | Won | Pyongyang | North Korea | Asia |
| 91 | Won | Seoul | South Korea | Asia |
| 92 | Euro (German Mark prior to 2002) | Pristina | Kosovo | Europe |
| 93 | Kuwaiti Dinar | Kuwait City | Kuwait | Asia |
| 94 | Som | Bishkek | Kyrgyzstan | Asia |
| 95 | New Kip | Vientiane | Laos | Asia |
| 96 | Lats | Riga | Latvia | Europe |
| 97 | Lebanese pound | Beirut | Lebanon | Asia |
| 98 | Maluti | Maseru | Lesotho | Africa |
| 99 | Liberian dollar | Monrovia | Liberia | Africa |
| 100 | Libyan dinar | Tripoli | Libya | Africa |