National Parks and Wildlife Sanctuaries of India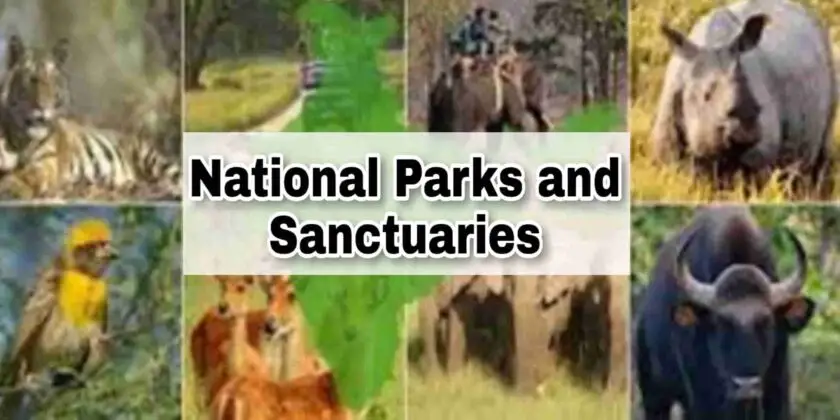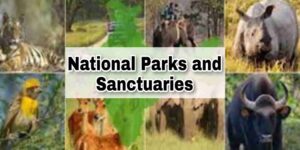 India's first national park was established in 1936 as Hailey National Park, now known as Jim Corbett National Park, Uttarakhand. Until 1970, there were only five national parks in India.

In 1972, India enacted the Wildlife Conservation Act and Project Tiger to protect the habitats of conservation-dependent species. Here we have given a list of useful national parks for your competitive examinations.
|   | S. No. | State | National Parks and Wildlife Sanctuaries  |
| --- | --- | --- | --- |
|   | 1 | Uttarakhand | Valley of Flowers National Park |
|   | 2 | Jammu and Kashmir | Hamish High National Park |
|   | 3 | Jammu and Kashmir | Hirpora Wildlife Sanctuary |
|   | 4 | Jharkhand | Hazaribagh Wildlife Sanctuary |
|   | 5 | Madhya Pradesh | Sailana Wildlife Sanctuary |
|   | 6 | Andaman and Nicobar Islands | Sadill Peak National Park |
|   | 7 | Chhattisgarh | Semersot Wildlife Sanctuary |
|   | 8 | Tripura | Sepahijala Wildlife Sanctuary |
|   | 9 | Himachal Pradesh | Sechu Tuan Nala Wildlife Sanctuary |
|   | 10 | Haryana | Sultanpur National Park |
|   | 11 | West Bengal | Sundarbans National Park |
|   | 12 | Chhattisgarh | Sitanandi Wildlife Sanctuary |
|   | 13 | Manipur | Sirohi National Park |
|   | 14 | Odisha | Simli Pal National Park |
|   | 15 | Himachal Pradesh | Simbalwara Wildlife Sanctuary  |
|   | 16 | West Bengal | Singlila National Park |
|   | 17 | Andaman and Nicobar Islands | South Button Island National Park  |
|   | 18 | Kerala | Silent Valley National Park |
|   | 19 | Jammu and Kashmir | Salim Ali National Park |
|   | 20 | Rajasthan | Sariska National Park |
|   | 21 | Tamil Nadu | Sathyamangalam Wildlife Sanctuary |
|   | 22 | Madhya Pradesh | Satpura National Park |
|   | 23 | Madhya Pradesh | Sanjay National Park |
|   | 24 | Maharashtra | Sanjay Gandhi (Borivilli) National Park |
|   | 25 | Tamil Nadu | Srivilliputhur White Squirrel Wildlife Sanctuary |
|   | 26 | Andhra Pradesh | Sri Venkateswaram National Park |
|   | 27 | Sikkim | Shingba Rhododendron Sanctuary |
|   | 28 | Karnataka | Sharavati Valley Wildlife Sanctuary |
|   | 29 | Bihar | Valmiki National Park |
|   | 30 | Maharashtra | Wine Ganga Wildlife Sanctuary |
|   | 31 | Madhya Pradesh | Van Vihar National Park |
|   | 32 | Gujarat | Vansada National Park |
|   | 33 | Himachal Pradesh | Lippa Asrang Wildlife Sanctuary |
|   | 34 | Jharkhand | Lavalong Wildlife Sanctuary |
|   | 35 | Jammu Kashmir | Lachipora Wildlife Sanctuary |
|   | 36 | Gujarat | Small Rann Wild Ass Sanctuary |
|   | 37 | Himachal Pradesh | Rohalla National Park |
|   | 38 | Madhya Pradesh | National Chambal Wildlife Sanctuary |
|   | 39 | Uttar Pradesh | Ranipur Wildlife Sanctuary |
|   | 40 | Andaman and Nicobar Islands | Rani Jhansi Marine National Park |
|   | 41 | Madhya Pradesh | Ratapani Wildlife Sanctuary |
|   | 42 | Andhra Pradesh | Rajiv Gandhi National Park |
|   | 43 | Assam | Rajiv Gandhi Orang National Park |
|   | 44 | Uttarakhand | Rajaji National Park |
|   | 45 | Tripura | Rajbari National Park |
|   | 46 | Bihar | Rajgir Wildlife Sanctuary |
|   | 47 | Rajasthan | Ranthambhore National Park |
|   | 48 | Nagaland | Rangpahar Wildlife Sanctuary |
|   | 49 | Sikkim | Yongnosala Alpine Sanctuary |
|   | 50 | Manipur | Yangpangpoki Lokchao Wildlife Sanctuary |