UNESCO World Heritage Site of India
The UNESCO World Heritage Site is a place listed by the United Nations Educational, Scientific and Cultural Organization as having special cultural or physical significance. 
The total number of UNESCO World Heritage Sites in India is 36 
(1 mixed, 7 natural, and 28 cultural)
. 
Agra, Ajanta Caves, Ellora Caves, and Taj Mahal
were the first selected UNESCO heritage sites in India in 
1983
.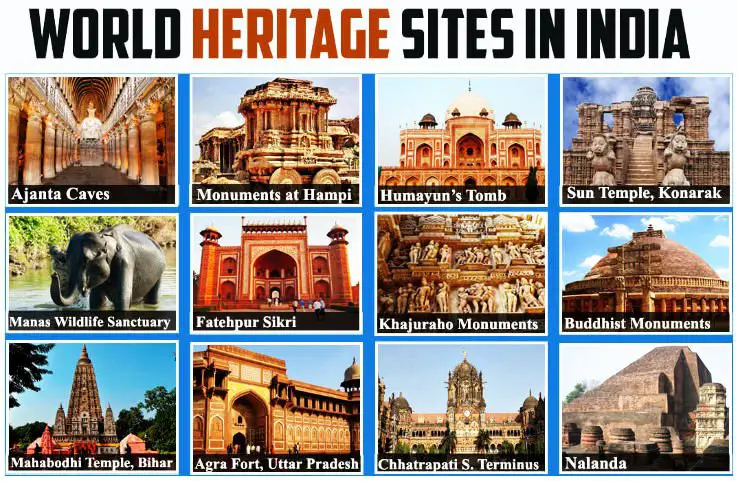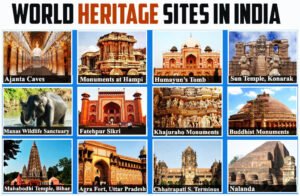 Cultural sites:
| No. |   | year | Cultural site                                                    | state name                                                    |
| --- | --- | --- | --- | --- |
| 1 |   | 1983 | Ajanta Caves | Maharashtra |
| 2 |   | 1983 | Agra Fort | Agra, Uttar Pradesh |
| 3 |   | 1983 | Taj Mahal | Agra, Uttar Pradesh |
| 4 |   | 1983 | Ellora Caves | Maharashtra |
| 5 |   | 1984 | Konark Sun Temple | Odisha |
| 6 |   | 1984 | Memorial Group of Mahabalipuram | Tamil Nadu |
| 7 |   | 1986 | Church and Convent of Goa | Goa |
| 8 |   | 1986 | Hampi | Karnataka |
| 9 |   | 1986 | Fatehpur Sikri | Uttar Pradesh |
| 10 |   | 1986 | Khajuraho Memorial Group | Madhya Pradesh |
| 11 |   | 1987 | Elephanta Caves | Maharashtra |
| 12 |   | 1987 | Pattadakal | Karnataka |
| 13 |   | 1987 | Great Chola Temple | Tamil Nadu |
| |   |   | 1. Brihadeeswarar Temple | Gangaikondacholapuram |
| |   |   | 2. Airavateshwar Temple |  Darasuram  |
| |   |   | 3. Brihadeeswarar Temple | Thanjavur |
| 14 |   | 1989 | Buddhist Stupas of Sanchi | Madhya Pradesh |
| 15 |   | 1993 | Humayun's Tomb | Delhi |
| 16 |   | 1993 | Qutub Minar | Delhi |
| 17 |   | 1999 | Indian Mountain Railway | 1. Kalka Shimla Railway, Himachal Pradesh |
| | | | | 2. Darjeeling Himalayan Railway West Bengal |
| | | | | 3.Nilagiri Mountain Railway Tamil Nadu |
| 18 |   | 2002 | Mahabodhi Vihar of Bodh Gaya | Bihar |
| 19 |   | 2003 | Bhimbet's Shelter | Madhya Pradesh |
| 20 |   | 2004 | Champaner-Pavagadh Archaeological Park | Gujarat |
| 21 |   | 2004 | Chhatrapati Shivaji Terminus | Maharashtra |
| 22 |   | 2007 | Red Fort of Delhi | Delhi |
| 23 |   | 2010 | Jantar Mantar Jaipur | Rajasthan |
| 24 |   | 2013 | Hill Forts of Rajasthan | 1. Chittorgarh, Rajasthan |
| | | | | 2. Kumbhalgarh, Rajasthan |
| 25 | | 2014 | Rani ki Vav | Gujarat |
| 26 | | 2016 | Nalanda | Bihar |
| 27 | | 2016 | Architecture of Le Corbusier | Chandigarh |
| 28 | | 2017 | The historical city of Ahmedabad | Gujarat |
Natural Sites:
| No. |   | year | Natural site | state name |
| --- | --- | --- | --- | --- |
| 1 |   | 1985 | Keoladeo National Park                                                          | Rajasthan |
| 2 |   | 1985 | Kaziranga National Park | Assam |
| 3 |   | 1985 | Manas National Park | Assam |
| 4 |   | 1987 | Sundarbans National Park | West Bengal |
| 5 |   | 1988 | Nanda Devi National Park and Valley of Flowers | Uttarakhand |
| 6 |   | 2012 | 1. the Western Ghats | 1. Agrasthamalai (Kerala, Tamil Nadu) 2012 |
| | | | | 2. Periyar (Kerala) |
| | | | | 3. Anamalai (Kerala, Tamil Nadu) |
| | | | | 4. Nilgiri (Tamil Nadu, Kerala, Karnataka) |
| | | | | 5. Talakaveri (Karnataka) |
| | | | 2. Periyar (Kerala) |  1. Anamalai (Kerala, Tamil Nadu) |
| | | | |  2. Nilgiri (Tamil Nadu, Kerala, Karnataka) |
| | | | |  3. Talakaveri (Karnataka) |
| | | | |  4.Kudremukh (Karnataka) |
| | | | |  5. Sahyadri (Kerala) |
| 7 | | | Great Himalayan National Park | Himachal Pradesh |
Mixed  Sites:
No. Mixed site 
year    

state name 
1
2016


 

Kanchenjunga National Park

Sikkim