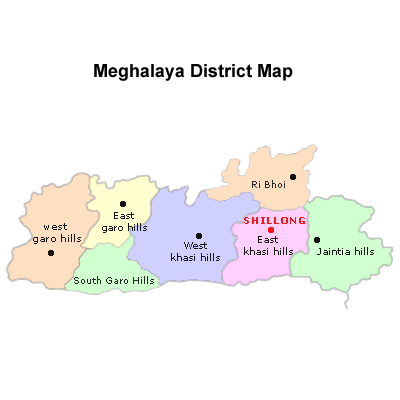 Districts in Meghalaya 2023

Table of Contents
List of districts in Meghalaya 2023:- Meghalaya is a state that was established on January 21, 1972, in northeastern India. Meghalaya has twelve districts, each of which is broken up into three administrative divisions. 

The territory of Meghalaya covers a complete area of 22,429 sq km. Before it was declared a separate state in 1972, it was a part of Assam.
We have shared the names of every one of the 12 regions of Meghalaya here, alongside the divisions they have a place with. Furthermore, we have additionally included data about the date of development of each region of Meghalaya here.
How Many Districts in Meghalaya 2023
Meghalaya has 12 districts all together. These locale are regulated by various authorities. A District Magistrate or Commissioner, who collaborates with a Superintendent of Police to oversee the district's law and order, is appointed for each district.

There were only two Meghalaya districts when the state of Meghalaya was split off from Assam on January 21, 1972: Districts of the Khasi Hills, Jaintia Hills, and Garo Hills. Be that as it may, over the long run, the all out number of regions of Meghalaya has expanded to 12.

How many districts do Meghalaya 2023 have?
This page contains the complete list of Meghalaya districts. Check the names of the state's 12 districts, as well as information about each district's population and area. Allude to the table common beneath to get the insights concerning the locale of Meghalaya.
Districts of Meghalaya – Complete List
There are 7 locale in Meghalaya. The districts of Meghalaya are listed here.
#
Established
Population -2011
District
Headquarter
Region
Area (km²)
1
2012
118325
North Garo Hills
Resubelpara
Garo Hills
1113
2
1976
199592
East Garo Hills
Williamnagar
1490
3
1992
142334
South Garo Hills
Baghmara
1850
4
1976
472497
West Garo Hills
Tura
2855
5
2012
172495
South West Garo Hills
Ampati
822
6
2012
270352
West Jaintia Hills
Jowai
Jaintia Hills
1693
7
2012
122939
East Jaintia Hills
Khliehriat
2040
8
1976
825922
East Khasi Hills
Shillong
Khasi Hills
2752
9
1976
252010
West Khasi Hills
Nongstoin
3890
10
2012
110152
South West Khasi Hills
Mawkyrwat
1341
11
2021
131451
Eastern West Khasi Hills
Mairang
1356.77
12
1992
258840
Ri-Bhoi
Nongpoh
2378
Meghalaya Locale and Authoritative Divisions (

Districts in Meghalaya 2023

)
We have provided information about Meghalaya's administrative divisions and districts in this article. From the table below, determine which districts in Meghalaya are part of which administrative division.
Garo Hills
Jaintia Hills
Khasi Hills
Divisions

North Garo Hills,

South Garo Hills,

East Garo Hills,

West Garo Hills,

South West Garo Hills

East Jaintia Hills,

West Jaintia Hills

Ri-Bhoi,

East Khasi Hills,

West Khasi Hills,

South West Khasi Hills,

Eastern West Khasi Hills

Districts of Meghalaya 2023
FAQs on Districts of Meghalaya 2023
Q1. In the year 2023, how many districts will Meghalaya have?
Meghalaya will have twelve districts in 2023. The Indian province of Meghalaya was beforehand a piece of Assam. In any case, it was comprised as a different state on 21 January 1972 with the Unified Khasi Slopes and Jaintia Slopes region and the Garo Slopes locale.
Q2. Which Meghalaya district will be the largest in 2023?
West Khasi Hills is Meghalaya 2023's largest district in terms of total area, covering approximately 3,890 square kilometers. As a matter of fact, in light of its enormous region, the West Khasi Slopes was bifurcated in 2021 to frame one more locale of Eastern West Khasi Slopes.
Q3. What are the names of Meghalaya's twelve districts in 2023?
Ri-Bhoi, East Khasi Hills, West Khasi Hills, South West Khasi Hills, Eastern West Khasi Hills, East Jaintia Hills, West Jaintia Hills, North Garo Hills, South Garo Hills, East Garo Hills, West Garo Hills, and South West Garo Hills are the names of the 12 districts of Meghalaya in 2023.
Q4. Which is Meghalaya's newest district in 2023?
The most up to date area of Meghalaya 2023 is the Eastern West Khasi Slopes locale. After receiving approval from the Meghalaya Cabinet, this district was established in 2021. On November 10, 2021, the Eastern West Khasi Hills, a division of the existing West Khasi district, was officially opened.
Q5. Which district in Meghalaya 2023 has the smallest area?
The South West Garo Hills district is Meghalaya 2023's district with the smallest total area. Only 822 square kilometers make up South West Garo Hills. Be that as it may, the number of inhabitants in this region of Meghalaya is 172,495, which is significantly more thickly populated than numerous different areas.
Q6. Where can I find a list of Meghalaya's districts in 2023?
Here, we present the Meghalaya 2023 district list. There are 12 locale in Meghalaya, which are isolated into 3 authoritative divisions. Refer to the table provided here for information regarding the names of Meghalaya's districts as well as the total area covered by each district.
Learn more about each state's number of districts.
Indian States
Union Territories
| | |
| --- | --- |
| Andaman and Nicobar | Chandigarh  |
| Dadra and Nagar Haveli | Daman and Diu |
| Lakshadweep | Puducherry |
—————————The End—————————
www.GKDuniya.in will update many more new jobs and study materials and exam updates, keep Visiting and share our post of Gkduniya.in, So more people will get this. This content and notes are not related to www.GKDuniya.in and if you have any objection over this post, content, links, and notes, you can mail us at gkduniyacomplaintbox@gmail.com And you can follow and subscribe to other social platforms. All social site links are in the subscribe tab and bottom of the page.